DETAILS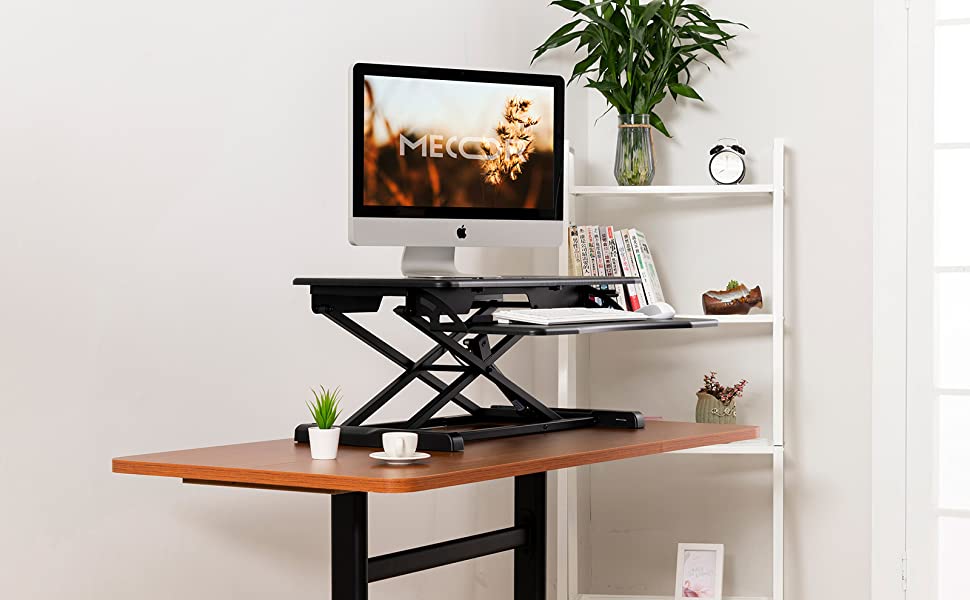 ⚡【Mecor Desk Riser Solutions】We create affordable ergonomic solutions designed with creativity and quality to help transform your unique workspace! This DWS06-01N standing desk sits on top of your current desk, allowing you to sit or stand on demand.

⚡【Quick Transition】Go from sitting to standing in one easy smooth motion using the innovative simple touch height locking mechanism (adjustable range: bottom resting point at 4.7" and max height can reach 20.1" from tabletop). Design of lifting mechanism allows the desk surface to elevate straight up.

⚡【SPACE EFFICIENT】The top surface measures 31.5" x 15.7", which maximizes space while still providing room for dual monitors. The 31.3" x 11.8" lower deck holds keyboard and mouse side by side. Customize your work area and create the workflow you need.

⚡【Simple Assembly】Very minimal assembly out of the box! Transforming your workspace with no complicated instructions or tools, simply place on your desk or table, and you're ready to work.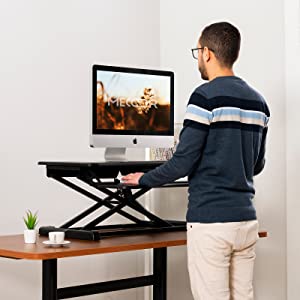 Mecor Adjustable Standing Desk 32" DWS06-01N
Space Efficient——Provides room for desk activities from PC/Laptop work, writing, drawing, and more. The top 31.5"x 15.7" surface easily holds two side by side monitors along with decor, writing utensils, notebooks, mugs, and more. The keyboard platform keeps your keyboard and mouse on a separate 31.5"x 11.8"surface at an ergonomic position.
Easy Operation——The small handles allows you to adjust the workstation with a light squeeze of the handles. The hidden design makes the standing desk much more concise. Small storage tray on the front top surface provides extra space for cell phones, pens, pencils, sticky notes, and more.
Preset Hole——This desk features monitor mount compatibility, allowing you to use the monitor mount of your choice. Works with both C-clamp and grommet mounting options.
Dimensions: L31.5" x W24.2" x H4.33"~19.8"
Worksurface Size: L31.5" x W15.7"
Height Adjustment: Manual
Work surface Weight Capacity: 33lbs
Gas Spring: creates smooth and quick transitions
Preset Hole: supports grommet installation(compatible with most monitor arms)
Squeeze Handle: effortlessly adjust height
Non-skid Silicone Pads: protect work surface from scratches or scuffs
Sit and Work
Fully collapsed, the DWS06-01N keeps your keyboard and mouse only a half inch off your existing desk. It's super easy to pull up a chair and enjoy some time off your feet.
Lifting Handle
With a easy-to-use single handle. Simply hold the handle on one side and raise or lower your stand within seconds.
Sturdy Steel Frame
Steel frame holds weights up to 33 pounds. The frame comes in a black finish to blend in with any environment and maintain a low profile.
You can lower the seat, but you can't adjust the height of the table. Long-term sitting posture can hurt the spine and cause many health problems.
Use our standing desk to adjust the height of the table, you don't need to lift your arms, so you can find the best sitting position and protect your spine.
You can also adjust the height of the lift table, Standing work tends to burn more daily calories and increase mental focus.